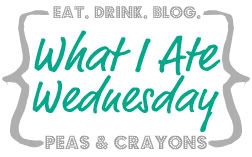 It's the last day of the year and I'm working from home. Eating at home is random, so I tried to really think about it on Monday… eat enough and uh, not all sugar. Kind of succeeded. Go me.
It probably worked since I started the day with muffins. Gingerbread muffins. Not as sugary as you would think though. Nothing beats fresh muffins before a day full of work.
My lunch wrap was a bit epic. Hard to close to be honest. Oops.  Garlic hummus, carrots, spinach tofu and hot sauce. Yum. I was planning chips or something but this ended up kind of big and I got full. Dinner was an asparagus stir fry. White rice, because that's what I wanted. The little stick asparagus were way too woody, thanks Safeway. Jerks. That's what I get for being lazy I guess. And with that my day was done!
(Visited 4 times, 1 visits today)