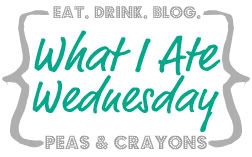 I was having issues uploading what I ate on Monday, so forgive me if I'm a bit cranky in talking. Monday was a weird day. I was coming off a cookie high and I really tried. I was going to make some nice hot oatmeal for breakfast since when I went to bed it was going to rain, but I got up and it was clear all day so that meant running around getting gear together and making sure my bike didn't overheat (issues, working on it). So no time to make breakfast, plus… bagels.
Catered lunch. Mango papaya salad with tofu and fake meat stuff. I dunno. I had this a few weeks back as well, it was a lot of salad. Pretty tasty, healthy ish right? Which is why I had to have a leftover cookie. I brought the rest of my haul to work and unfortunately the reindeer who were going to ride in the car got my backpack and motorcycle instead. This dude totally didn't complain though. Does a blue nose mean he's cold? I forgot to ask.
Dinner was not "chili mac". Well, the recipe is called that and I'll talk about it later, but I dunno man, this wasn't chili mac. Tasty but yeah.
(Visited 6 times, 1 visits today)