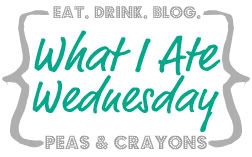 This week Monday was crazy. The commute in was crappy, even though I was praying that everyone was in the desert. No such luck. I started the day with muesli instead of a bagel. I just felt like muesli so I made sure to bring some with me in my backpack.
It was gloomy and a bit cold in SF on Monday, at least at lunch. It started to clear up around 3pm, you know, in time to get cold and foggy again. Ah summer. So summer in SF is chili season! I got veggie chili from downstairs. It reminded me I need to make some damn chili. It was pretty bad last time, today it was mildly better. Chock full of veggies which is nice.
I came home still stressed (gotta work on that) and a bit hungry for salty things so I took a handful of falafel chips to tie me over until dinner. For dinner I made a huge stir fry with veggies, tofu, an obscene amount of water chestnuts and udon noodles. The husband says he actually really liked the noodles better than rice (freak). I really liked them but I still love me some rice. Good to mix it up though.
(Visited 2 times, 1 visits today)