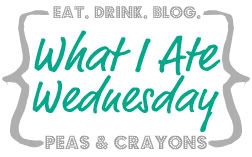 Happy Wednesday! Yesterday I started with some museli I had soaking overnight. With strawberries! Who knew huh? Work was super busy so I'm glad I brought my lunch. I packed a huge salad (which was a duplicate of what I had last night for dinner. Cheap croutons, meh. Lots of smoked tofu though, it was quite filling.
Here's some news: I didn't want salad for lunch. Sure it was great at dinner last night but it wasn't what I wanted. At all. I wanted something greasy and comforting like pizza, however I abstained. I did bring my lunch and I wasn't going to waste all those veggies. So, when I came home from a long day and a windy ride I opted for some completely comfort food: chili mac. Hey man, it works. I still want pizza though which is crummy.
For dessert I had the last bit of strawberry pudding. Â What a crappy photo, sorry about that!
(Visited 5 times, 1 visits today)