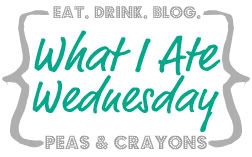 I took photos of my food yesterday and realized how darn boring I've been. Hrm. I'm now on a muesli kick. So now there will be a weekly post featuring muesli because I can't seem to switch things up easily. Great to make a night ahead with some soy milk and whatever fruit I have around. Yesterday it was strawberries.
Lunch wasn't so boring I guess, but I've been getting it a lot. Â The "Stone Bowl" (bibimbap) from Stone. I mistakenly got the regular size the first time and almost exploded trying to eat it all (you know I handled it, but I complained), the small is also pricey but at least manageable. There's rice under there, I promise.
I made a huge salad with goddess dressing for dinner. I didn't really know what I wanted so we went with salads. No extra tofu (already had that for lunch) so just a bunch of veggies, spinach, edamame, croutons, peanuts and some dried cranberries. Guess what I'm having for lunch too? I haven't been baking so I made some quick granola bars for dessert. I need to work on photos and a post for that!
(Visited 4 times, 1 visits today)