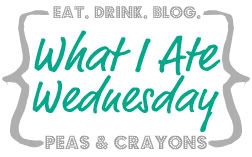 Happy Wednesday! Let's flash back to Monday, where I had cake and carbs for breakfast.  I'm working on a cake recipe for Sunday and have a lot of testers to feed people. And I fed myself. I think the recipe for this one is a winner.
Lunch was half of a large Spicy Thai salad from Specialties. These salads are huge. While I can take care of a large one myself I decided to show some restraint. And you know, I had cake for breakfast. 

I don't know what to call dinner. It was tortillas with brown rice, black bean patties, salsa, and a little bit of daiya all thrown in the oven to make crispy. Side of broccoli and chips.  Dessert after tennis was half of this peanut butter cup pudding. I was more full than I thought.
(Visited 3 times, 1 visits today)