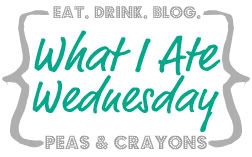 What I ate weekend style! This was Saturday, which was kind of weird. I generally start my day off with a banana, peanut butter and some sort of carb before tennis. However on Saturday I skipped it and was super hungry when I got home. I knew I had leftover buckwheat pancakes from dinner at Millbrea Pancake House so I was pretty happy.

Since that was pretty much breakfast and lunch I snacked on some chips. I felt guilty that I didn't actually have any veggies. I planned (and actually made) a big salad with tacos. My salad was huge so I only had 1 taco. I did add tofu to the salad so I still got quite a bit of protein.

And then I baked cookies. I'll post about those really soon! They have GrapeNuts in them!
(Visited 6 times, 1 visits today)