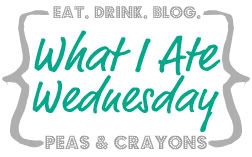 So for March I'm trying to take a photo of everything I eat. Just to see what the heck is up. My thyroid is out of whack so I really need to pay more attention (and get my meds sorted out on Thursday). March 1: A banana before tennis, oatmeal after (closer to lunch), snacked on some Pasta Chips and a new bar I made. Dinner was out at Jack's Prime so I got a southwestern salad with a black bean burger. Just say no to avocado!
Sunday started off with oatmeal.  A new ball recipe I made plus some pasta chips. I baked bread (recipe soon) and we gorged on that while it was warm. Dinner was light with a veggie stew and salad.
Monday I had an appointment so I couldn't make oatmeal. Took part in the bagels at work though. For lunch I had made extra salad from dinner the night before so that was easy. Snacked on the bars in the fridge from Saturday while making dinner. Dinner was SooFoo with Tofurkey sausages and broccoli. 
Yesterday was oatmeal (are you seeing a theme?).  For lunch I had a wrap of eggless egg salad from Hodo Soy. I love this stuff. Dinner was pancakes which turned out horrible, so I snacked on toasted bread before my tennis date. I swear, one day I'll be reliable at making pancakes. I was SO looking forward to pancakes for dinner and these were inedible, but I tried to choke them down. Blah. Ben made eggs they were that bad.
(Visited 4 times, 1 visits today)