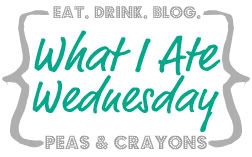 Welcome to what I ate Wednesday. This week has been weird, and a bit off. And uh, vegetarian. But let's not get ahead of ourselves. Wednesday started off with some carrot cake muffins and tea. Lunch was free at work but just okay. Rice, salad, veggies that were not that amazing and uh, french fries. Peruvian. Woo. Dinner I made fresh pasta with broccoli and pesto. The husband loves this meal with chicken lately. It's so easy and I'm forced to make it when I buy fresh pasta so he gets kind of excited when he sees pasta in the fridge. However, even with the carb fest at lunch and dinner I was still hungry and had some chips.
Tuesday I mixed it up a bit and had a yogurt bowl for breakfast. Unfortunately the only coconut milk greek yogurts left (on sale) were raspberry so this was super sweet with granola and blueberries. A bit much but tasty. Lunch was a tofurkey sandwich from home plus chips, and dinner was a huge salad.
Friday I made a pita sandwich for breakfast with peanut butter, bananas and strawberries. I generally eat this kind of thing on the weekend before a hike or tennis. Why not move it into regular rotation? Lunch was a salad from home. Dinner was roasted cauliflower. Yep, that's it. I was supposed to have rice as well but someone ate all the rice so I ended the night with some chips. Who knew? I'm not joking when I say I have a chip problem. You should have seen it when it was out of control.
This is where I remind you I'm not vegan and I'm not really a "healthy living 24/7" kind of girl. But I'm being real this month, so I have to share. Breakfast before tennis was a peanut butter pita sandwich with strawberries and bananas. After tennis I had the last yogurt with granola. Then I made some bars in the afternoon and was pretty full for a while. And then I had nachos for dinner. Yeah, I know. We went out for a ride and ended up at Sneakers for dinner. I went back and forth on what to order. Do I get a meh veggie burger or get what I really like here… nachos. I felt like even though I would skip this on a day I'm taking photos I didn't want to skip it. So here it is, it isn't all salad and baked goods around here. Don't worry, I felt like hell after so it will be about 3 weeks until I do this again 😉
I wasn't joking when I said I felt like crap. It carried over into Sunday. I had cereal until dinner. That's it. Dinner was out with friends at a pizza place and I couldn't pull the cheese trigger again no matter how good the pizza looked. I started with a salad and had pasta with a basic tomato sauce. Yeah, not fun.
Monday I kept on my carb roll starting my day late with a bagel and peanut butter. The bagels showed up at 10am. WTF? I was chewing on my desk. I need to learn to handle myself. Lunch was later and it was a Trader Joe's Edamame salad. I made pizza for dinner as well since I was missing out on Sunday. Mine still didn't have cheese though.
That brings us to yesterday. Â My pita went bad since I left it on the counter so I had a tortilla with peanut butter, bananas and strawberries. It works. Lunch was leftover chana masala from the freezer with brown rice and broccoli. Dinner was a huge salad with a few fake chicken nuggets on it (didn't like the brand, I'm going back to the vegetarian Quorn ones, egg whites or not dammit). And then I had to test a cupcake that I made for a friend's birthday.
(Visited 3 times, 1 visits today)