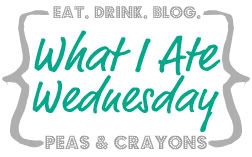 Taking a photo of everything I eat really lends itself to mindful eating. However, I'm still thinking about it more than I would like, but at least the nibbles here and there are gone. Wednesday started with oatmeal. Lunch was catered but it was polenta and, uh, ew. I went down to a food truck and got me some damn tasty falafel with pita. I had to grocery shop after work so I went to Whole Foods and got the salad bar. Underneath this tofu salad is a salad. Finished off the day with a few cookies.
Thursday started out the same, oatmeal. This is kind of why I didn't take a lot of food photos. I mean, how much can you style oatmeal. For lunch I had potatoes, peas, corn and edamame again. I was hungry again in the afternoon (nb: eat more protein at lunch) so I had an apple. Dinner was a huge salad with tofu, romaine, cucumber, tomatoes, cabbage, carrots, and green goddess dressing.
Friday made up for my healthy Thursday. I started off with some pie. It was Pi day! Lunch was chips and a vegan sandwich. Tons of marinated mushrooms and peppers in there, with kale and some vegan mayo. But since I skimped on breakfast I broke into some fruit at 3pm. Then at 5:30 I ended up inhaling some chips while we waited on Chinese delivery. I don't really like chinese food but the husband had a craving so I got garlic noodles and the free eggrolls. Meh. It's part of being married. This place doesn't really have steamed veggies and their brown rice kind of sucks so I get beige. Oh well.
Felt crummy so started the day before tennis with a tortilla coated in peanut butter, banana and strawberries. That worked and when I got home from working out I had the rest of the melon. Lunch was leftovers made up of brown rice, stir fry and fake chicken. It was so nice and warm out and I was on a cleaning spree so I treated myself to a slurpee. Totally worth it (it was the sugar free mango one anyway). Dinner was Jack's. Again, we didn't know what to eat so we went default and I got a southwest salad with a black bean patty.
Sunday was waffle day! The topping didn't turn out and I had run out of maple syrup (there was a crisis, almost a breakdown as well) so I had these with brown rice syrup. Then I made and tested some muffins. For dinner I made homemade pizza. Mine was a red sauce with onions, mushrooms, garlic bacon bits and broccoli. Tasty. I wanted something sweet before bed so I had some grapes.
Monday, back at work. Started with a bagel and then went to Ozone for thai buffet stuff. They have pick 2 entrees and you can choose brown rice. I have a weakness for their fried tofu and it is generally on the menu so I got that and stir fried veggies over brown rice. I was smart this time and boxed up half right away so I had lunch for the next day. They have portion issues but actually this time they were kind of sane. I was a bit hungry at 3pm so I had a banana. Monday night I dragged my husband to Ikea for shelving and we had dinner at Whispers, a local cafe. I had a lavash wrap, pretty much a huge wonderful salad with hummus in a wrap. Fries of course and a side salad. Too much food but it was damn tasty.
For breakfast yesterday I had a few muffins and a banana. Lunch was leftover thai and for dinner I kept it simple with sandwiches and chips. I was going to make tater tots but the husband was out until way past dark working on his bike that I didn't want to bother. My sandwich was tofurkey, pea sprouts, pickles, mustard, and vegan mayo. A few balls I made for dessert.
(Visited 3 times, 1 visits today)