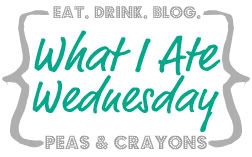 Happy bagel day! Well, this was from Monday, aka, bagel day at work. I haven't been buying bagels at home for a few weeks so I only get my fix at work. Kind of boring but I brought a colourful lunch.
I made a kale salad on Sunday to have for some lunches.  I had it for dinner last night as well. It was kale, red onion, cucumber, tomatoes, garlic, olive oil, lemon juice and pine nuts. Fantastic. I topped it with some leftover tofu. So very good. To hit that sweet tooth I had grapes and a very out of season peach for dessert. It was a bit too much to be honest but I was happy.
I  had a horrible workout, so very sore and no grip. I quit half way and came home really upset. I don't know what to do, I kind of feel like quitting weight training, but I probably shouldn't. I was cranky and didn't want dinner so I had a strawberry protein shake with a frozen banana. Right before bed I was too hungry to get to sleep so I had some corn chips with a few scoops of hummus. Dumb dinner for such a great day. Oh well.  At least the beginning of the day went well!
(Visited 5 times, 1 visits today)