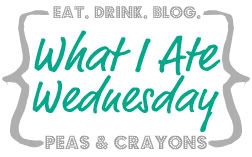 Happy Wednesday. Yesterday was a good but busy day! I started my day off right with toast. Yeah toast. I love toast. Now that I have coconut spread at work toast is so very easy. Plus, grapefruit. However the grapefruit makes my tea taste meh. Oh well.
I dug up the last of the black-eyed peas from New Years out of the freezer. Damn, I really like this recipe. I had it with some plain pita chips. In the afternoon I had some wasabi trail mix since I wanted something else salty.
I brought treats to work but I didn't get any so when I got home I had a cookie… or two. Oops. I have to learn not to fuel my workouts with cookies. One day I'll stop. I swear. It wasn't today. Had a good workout, don't know what to say about that. Well, besides maybe I shouldn't eat cookies before I work out.
I still had dinner though, and almost forgot to take a photo. So here's a blurry photo of half of what I ate. I made a quick Chana Masala with Trader Joe's simmer sauce and a side kale salad. I had WAY more salad than that. I was hungry so there was no photo shoot for dinner. Just an "oh crap, I need a photo!".  After dinner I had to run out for emergency cat food, get home, shower and fall into bed before I ate more cookies I didn't need.
(Visited 4 times, 1 visits today)