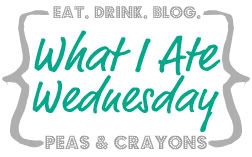 Happy Wednesday! It's the holidays and food choices are interesting to say the least. For breakfast I was craving cinnamon raisin toast. There wasn't any (surprise!) so I had a bagel. 
Lunch is still catered. This was Indian Pizza. Yep. Pizza with Indian toppings. I got a vegan pizza. It was… okay I guess. Kind of a weird mash-up to be honest. The samosa was tasty though.
Dinner was just a soup I threw together. Chicken-free broth, curried SooFoo (since I had some leftovers), black beans, chopped veggies and a bouquet of herbs I got in my CSA box. Doesn't look like much but it was tasty.
(Visited 1 times, 1 visits today)