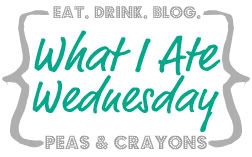 Oh yeah, leftover waffles for WIAW. I popped these in the toaster at work and had them with maple syrup. Yup. I keep maple syrup at my desk. Don't you?
Lunch was a crispy tofu sandwich with a mango salad. It was pretty much a bahn mi. Love those. Deep fried tofu is the best. The salad could have been better. Oh well.
I spent over 2 hours in traffic getting home. Chicken fingers because I couldn't bear to cook. I had already eaten half of my broccoli before I remembered to take a photo. Oops. I couldn't even be bothered to cook a grain or potatoes. Chips are awesome though.
Dessert was peanut butter balls. Hey, they are hanging out in the fridge, at least I only had 2! I'm feeling the added weight that's going on, it's starting to affect me. I had decided to go to the gym but I got stuck in traffic. I need a better plan of attack. Hopefully I'll play tennis twice this week so that's at least something.
(Visited 6 times, 1 visits today)