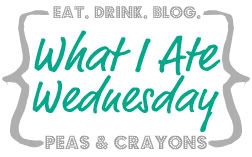 Happy Wednesday. I actually remembered to take photos yesterday. Fair warning, it's a carb fest. That's how I roll when I'm busy, sick or need to get to a happy place. Go figure huh? I'm a little stressed and I'm still not feeling 100%.
Breakfast was a cinnamon raisin bagel with peanut butter. I need to change this up but this is what sounds good at the moment. And with the amount of peanut butter I put on it, it keeps me pretty damn full.
Lunch is still catered every day. I got a vegan torta that had grilled veggies. The bread was gluten-free since there are some GF peeps in the office. I was pleasantly surprised, the buns were pretty darn good. Salad and rice & beans on the side. The sandwich was kind of big and was touching one with mayo. The horror! *rolls eyes*
I kind of wanted lasagna for dinner but I didn't want to make it, so I made curry SooFoo, steamed broccoli and chicken patties for dinner. It's more of my version of chicken and broccoli that bores every dieters plate. Except I'm not dieting, I'm just boring. When I look at the photo of it cut up it kind of looks like fake chicken katsu. The husband had his chicken tucked in a tasty challah roll. I figured I had enough bread for one day.
(Visited 2 times, 1 visits today)