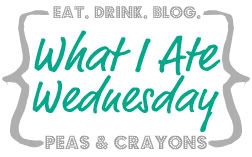 Another week, another look at my food. I'm skipping the gym this week so I'm a bit lost and out of it. I'm getting burnt out. Don't know what's up, it's just more than my normal trial to get to the gym. I figured I could use a week or so off. I started off with some overnight oats this morning. Oatmeal, protein powder, almond milk, chia seeds and a peach. I think I like it better with a mashed banana. Something was off though, I was tasting garlic and I'm not sure if it was the spoon or the tupperware. Kind of disappointing honestly.
I've been trying to wear "sensible" shoes to work so I can go on a walk at lunch. Today I went up to Market and stopped at NewTree to pick up a vegan sandwich. It was kind of weird with hummus and cranberries. A for effort? Probably should have had the quinoa salad or something. Oh well. I had some grapes after the sandwich at my desk. Maybe I'll just walk to Whole Foods tomorrow. Meh.
Snacked on a banana at my desk. Caught up on some contracts. Was a productive member of my team. Went home. Our range is out of commission and I wanted to try a vegan Pho recipe that wouldn't use the oven (the burners are okay). No way in hell Ben was eating that and he wanted to order chinese. I'm not a huge fan. I got Kung Pao tofu, it was okay. Not spicy enough. My fault I guess but when I say mild at the Indian place I need a fire extinguisher.
(Visited 4 times, 1 visits today)