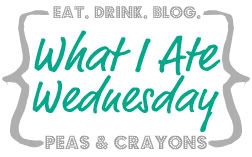 I'm so out of it today. I'm on a bit too much benedryl (mystery spider bites, but they are swelling like my mosquito allergy), plus I hurt my knee in tennis and it's still not feeling amazing. Oh, and woman bit issues. Yeah, Wednesday can suck it. I was out of it yesterday too so I wasn't really into taking photos. I did remember to photograph my green monster I had for breakfast.
We get Costco deliveries at work. Sometimes they have awesome things like organic blueberries. Those go quickly. I had them for a snack. Lunch? Yeah, I totally forgot to take a photo of that. It was a big salad. You've seen a salad before. Oops.
I was supposed to go grocery shopping after work. Instead I came home and ate chips and sat on the couch. I figured I had stuff for dinner. I have a freezer and I'm not afraid to use it. So we had vegan pepper steak and rice. I actually assumed I had broccoli but it had gone off. I was really surprised but I wasn't into frozen veg tonight. I was all ready to eat veggies at each meal and then I got outsmarted by my fridge. After dinner I hung out and read. Go me. So very boring.
(Visited 6 times, 1 visits today)