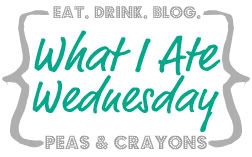 Good morning! This past week has been busy and yesterday was no exception. I had a lot on my to-do list, so I started things off with a green protein shake. It was chocolate flavoured, you know… you can tell by the "green". Or not.
The morning was busy with spreadsheets and meetings. I ran out for lunch because I figured out I was close to Sunrise Deli! The same food truck that I would never miss when I was working in Brisbane has actual shops and this one is .6 miles away from my office. I'm sure it looked better before I left the shop, it tipped in my bag. Oops. Hummus almost escaped!
When I got home I knew I wanted a salad, but I can't really just feed a salad to the husband. So I grilled and threw on a Quorn naked cutlet for myself for some protein in my kale salad. I didn't get enough hummus in the afternoon or it was still on my mind because I totally went for the hummus dressing I made a few days ago. Nice and garlicky, kind of like a chicken caesar I guess.  For dessert I had to quality control some Whole Foods Oreos. I needed them for a recipe! I swear!
(Visited 3 times, 1 visits today)