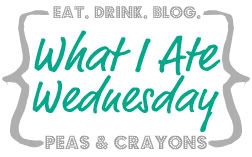 Happy Wednesday. Things have been crazy around here. Yesterday was my first day at a new job and I forgot to eat breakfast. Well, honestly I wasn't hungry. But I was hungry when lunch rolled around. I'm back at a job in the city so it demanded an urban food log.
Not very huge, and I decided to go with lettuce for some reason. Hey, I was tired and hungry when I ordered. It's just beans, rice and pico other than the greens. I should have gotten the broccoli. Hrm. A good lunch sized burrito though, I could finish it and not feel like I was going to die.
I have a longer commute now so dinner was kind of boring. A fake chicken patty sandwich (Quorn, so it has egg whites, it was a vegetarian day), tots and baby carrots. Yes, the tots are normal size. Yes the baby carrots are kind of on steroids. Or maybe Monsanto. *shudder* Anyway, I wanted something sweet for dinner but I didn't want to bake. So strawberries fit the bill. Honestly I figured out I was craving processed sugar after eating this bowl full of berries. However, I didn't need anything more processed today so it will just be moved to another day.
(Visited 2 times, 1 visits today)