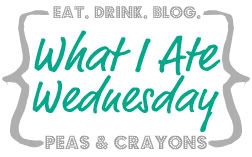 I missed last week since I posted about pizza instead. You know, priorities. Pizza trumps taking photos of random food days!
Today I was home from work, so I started out my day right! With pancakes! Okay, leftover reheated pancakes from the weekend. Still, different from the muesli you have been seeing. Don't worry, I'm going to Costco on Friday 😉
I went on the hike yesterday and kind of missed lunch. I was dying when I got to the car so I had an emergency Luna bar. Not to self: don't keep the chocolate ones in the car. I ate it anyway.
I got home, wrote a blog post and was dying for something salty. I portioned out some chips because in my mind a bag no matter what size is a portion. It's not like I wasn't going to eat again today so I had to calmly tell myself that this amount of chips was okay.
I was single for dinner and I wanted veggies so I roasted some brussel sprouts and had them with smoked tofu and brown rice. I had almost the whole bag, so that's a pretty big heap of veggies. I remembered to put balsamic vinegar on them this time, go me!  The stupid bar was triggering sugar cravings all evening but I won out. Between the maple syrup and the bar I think I was fine on that count.
(Visited 6 times, 1 visits today)