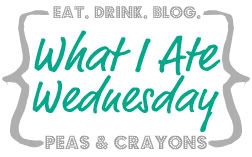 What I ate Wednesday, conference style. Busy travelling on the West coast so my eating has been all off. This morning instead of the 2 plain bagels I had for breakfast yesterday (yawn), I had some yogurt & granola (not vegan, oh well) and another plain bagel. I pocketed a banana but forgot to eat it. Hey…that's still in my bag! Yum!
Lunch was pretty good for a conference. A plain salad that I dressed with balsamic vinaigrette, a marked vegan bean salad, pasta primavera and a roll. I was pleasantly surprised.
I got to the airport to have my flight delayed because the president is flying in California. Restricted airspace. Thanks Mr. President. I grabbed a burrito from Qdoba which I honestly don't like. Just beans, rice and salsa in this. Nothing epic or very tasty. I'm not in love with the Seattle airport currently, I wish I was back in SFO terminal 2 where I could have gotten some awesome eats.  And some damn chips. I asked for chips three times and I didn't get any. Selective hearing, grr.
Now, to do a bit of work, charge my devices and wait for Mr. President to leave California safely so I can get home.
(Visited 3 times, 1 visits today)