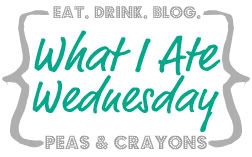 I've had a munchy day. Started out with a chiropractor appointment so I was a bit late to work. I had a lot of pain this weekend and he yelled at me because I didn't call. And then told me to go on a hike. He's pretty damn cool. At least I got a cinnamon raisin bagel, but no fruit. I mean, I guess I could have cut up my own fruit but the fruit salad was gone and I was really damn hungry. I just went with it and ate a whole bagel with pb instead. Was considering the bar but I was okay after the bagel.
Lunch was a pre-made salad from Trader Joe's. I don't buy a lot of pre-made salads (okay, let's go with never) but I picked it up for dinner last night and didn't end up eating it. Brought it to work and fell in love. It is the kale and edamame salad. I used half the dressing since I don't like things drenched but ate the whole veggie part.
I ended up breaking out the bar since the salad wasn't cutting it today. Sure it was a full dinner plate full but still. I got this at work as a tester and I'm not in love. It's pretty moist and I think that is from the chia. It was super sweet. I finished it but I shouldn't have bothered. I couldn't get over the sweetness so I had a half of a packet of nuts which were way too salty. I just wasn't made to win on the snack front. I usually buy the 50% less sodium nuts or raw at Trader Joe's so I forgot how damn salty regular nuts are!
Worked out and it went really well. Go figure I'll miss all next week so I'm sure I'll have a shitty time the week after. I made a random pasta concoction of multi coloured pasta, lemon pepper, roasted garlic olive oil, fresh peas, spinach, fake bacon bits and lentils. It was really damn tasty.
And dessert was a handful of lychees! Yay! I LOVE lychees. I was excited to find them when I was shopping. These ones however are all pit which kind of sucks. Oh well. Tasty, but not a lot of flesh. The end to a good day!
(Visited 5 times, 1 visits today)