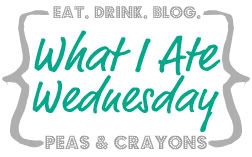 Happy Wednesday! Today was a good day, and I worked out! Go me! I'm starting to get into a schedule which is good. Still working a lot but I'm getting a sense of where things can go.
Breakfast was a 1/2 cranberry bagel with peanut butter and fruit. I don't know why there haven't been any cinnamon raisin lately. Boo hoo huh? Stupid free bagels.  There were parfaits as well but I wasn't feeling dairy today, so I just picked up the usual. I'm kind of missing oatmeal so that might be the rest of the week.
Had a couple of hazelnut date balls. I'm out now. I should make some more raw balls this weekend. I love these as quick snacks, especially when I want something sweeter.
Big salad from the cafe downstairs. Oil and balsamic vinegar. It was really cool that they had tofu on the bar for protein but I really kind of don't like plain raw tofu. B+ for offerring it but well, it's better cooked honestly. Maybe next time I'll crumble it up like cheese or something. I just loaded up on sunflower seeds and chickpeas today.
So the salad didn't cut it. We have a ton of work snacks and I was dying to try this Luna Protein bar anyway. Glorified chocolate bar honestly. So tasty. But hey, 12g of protein kind of sells me on something I would pick up instead of a snickers bar or something.
And then I came home and stuffed a shortbread in my mouth before Kettlebells. Oh well, it was my dessert, just before dinner. I had a really great workout though! My biceps are pretty tight but that's not horrible. Ran home and had some black rice cooking and added some pre-cooked lentils and broccoli. Topped with salsa and it was a nice tasty meal. Now, to bum around online and then pass out for the night.
(Visited 4 times, 1 visits today)