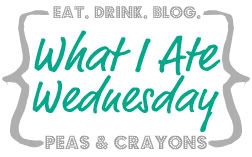 Today I took the day off and went and got my hair done. It looks fab, I'm so excited. It's been way too long, and I'm glad I'm in the same state with a rockstar who can do something stellar with my hair. Funny enough, I had quite the portable breakfast. Greek coconut milk yogurt with some granola. It ended up being a vegetarian kind of day but worth it.
After my appointment I was so hungry. Burger and onion rings? Yes please. I got a portobello mushroom burger with awesome rings. The orange is a chipotle mayo. Not vegan, but it's like crack. So good. I ate it all.
And then I was stuffed for hours. Seriously. I have this leftover kale salad staring me down from Cheesecake Factory. It isn't vegan either, damn buttermilk dressing. It's awesome that I can get kale salad at CF though. I had that and hummus for dinner last night, and ended up not eating much of the salad at all. It's all good, leftover kale salad is still awesome. I didn't eat enough last night for it to hurt my stomach, but tonight might be that night, I've got a big bowl full!