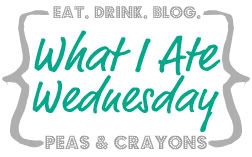 What I ate Wednesday, as in today! Today was a busy day. I had snacks planned out but it just didn't work that way. Sometimes you just go with the flow!
Breakfast was 1/2 a blueberry bagel with peanut butter and fruit. I really wanted a cinnamon raisin bagel but they were all gone when I got to work. Darn traffic. Someone also stole all the pineapple and strawberries. Punks.
Lunch was the Curry Up Now foodtruck. It was good. This was a hella vegan burrito. Think of a wonderful Indian vegetarian feast all rolled up in a burrito. Since the job has a lot of food trucks around, I was thinking of doing "Food Truck Friday" or something just as dorky. Either way, I couldn't finish this bad boy and had planned a snack.
And… I didn't get to my snack so when I got home I had a green monster with protein powder. I was dead set on working out. I did. I almost died. It's all good though. The trainer told me to go home early because he was worried I might die. In those words. Oh Russians. They are so subtle.
I had put on the rice cooker when I left, and while I was showering I roasted some brussel sprouts and a Quorn naked cutlet. Lots of mustard of course. I love sushi rice, so give me a break. It's better than the chips I was eyeing. And a cookie for dessert, because I deserved it for going back to the gym after 6 weeks. Yes, I suck. Yes, I'm going back on Monday. Yes, I still feel like I'm going to die. But at least I had a cookie!
(Visited 3 times, 1 visits today)